Our Mission
The mission of the Brighter Choice Foundation is to provide grants and academic supports to charter schools in the city of Albany with the goal of creating the best educational opportunities for students while strengthening and improving the charter community.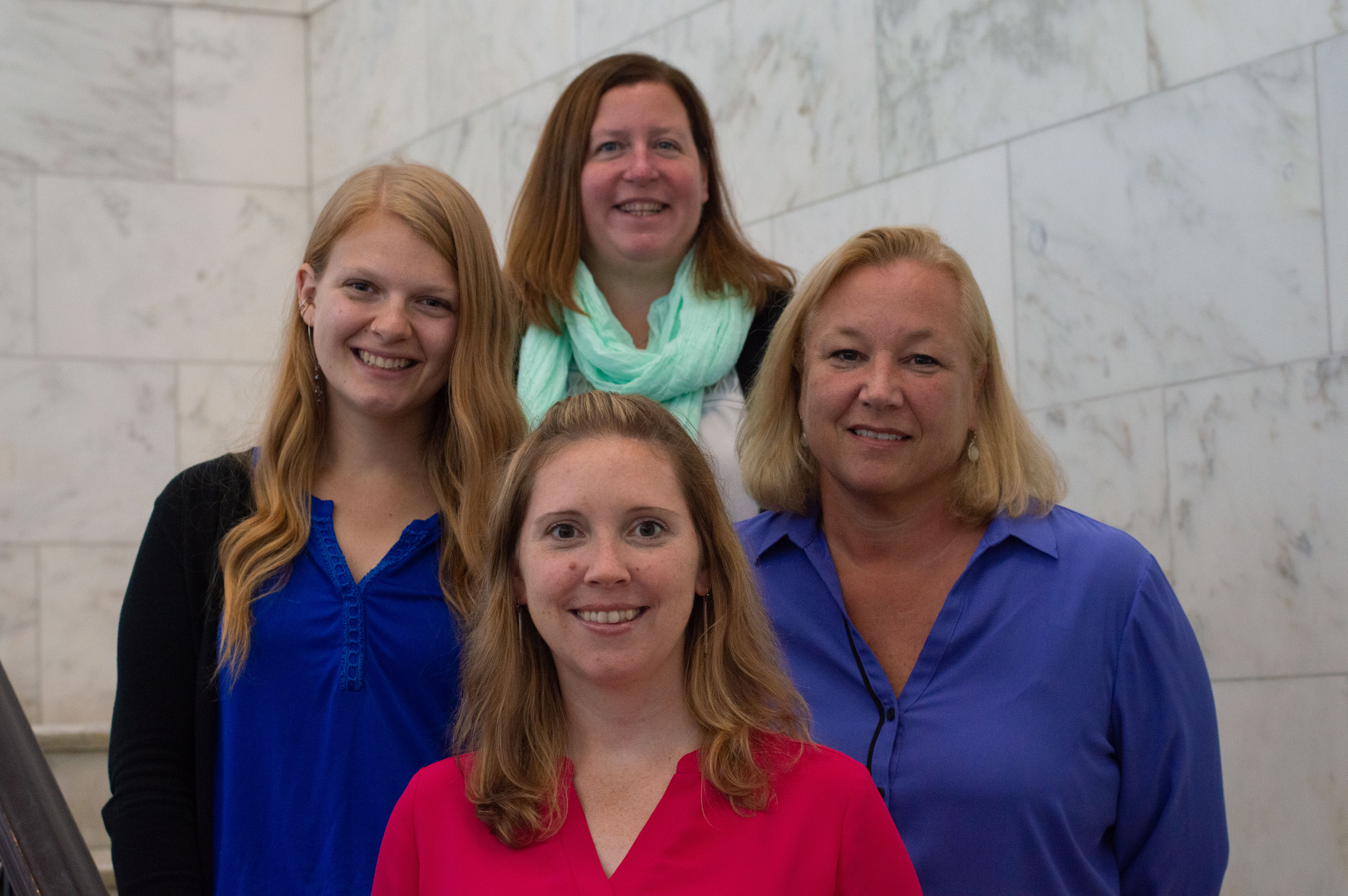 Our Vision
Our organization will help Albany charter schools grow and improve to become a model charter community with best practices to be replicated and utilized all over New York and beyond.
Our History
The New York State Charter Schools Act was passed in 1998 and from its establishment our founders had their eyes on creating school choice in the City of Albany.  Our initial goal was to design alternatives to the poor options we saw for the residents of our city, many of whom could be classified as economically disadvantaged. We sought to fix a structure where systemic inequities prevented urban students from getting a quality education.
We watched as for-profit schools entered the charter landscape, but felt that their approach was too fast and unsustainable. BCF used the two years in between the passing of the act and our inception to launch a thoughtful plan to combat the political and funding disparities that faced our plight. We eyed replication of established, high-performing schools as the means to meet our goals.  We looked to KIPP: Texas, the Match Network of Schools in Boston, and the Noble network of schools in Chicago to be our models. With generous donations from many foundations and individual donors we opened our doors as a 501(c)3 not-for-profit in July of 2000 to begin the startup process  for many high quality charter schools. 

The Brighter Choice Charter School for Girls was our first slated to be built after it received its Charter in 2001.  From the beginning, we have been ground breakers in the charter world as this was the first school to have investment rated bond funding and it was the first single gender charter elementary school in the nation. Though we faced much opposition, we remained focused and went on to help with the charter procurement and facilities startup in the following timeline: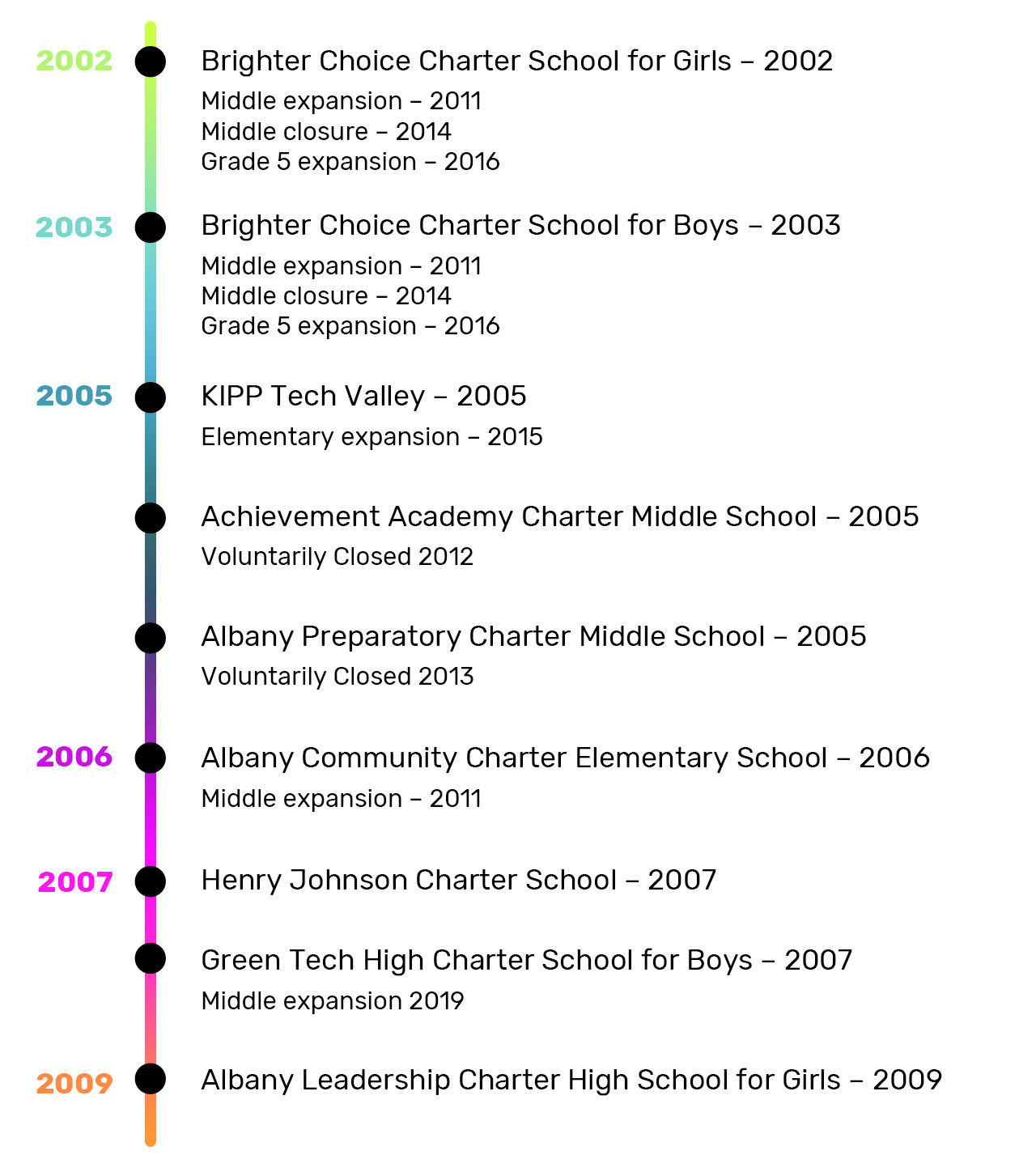 The last to open was Albany Leadership Charter High School for girls in 2009. At that time it still could be said that we were at the forefront of the charter movement because this was the first all female charter high school in the nation. Since all of their starts, many of the schools have gone on to continue to expand.  Sometimes successfully, sometimes needing an extra iteration to make sure that the educational offering to students was one of excellence.
With the buildings and charters in place, in the summer of 2013 BCF decided to try out a new venture and introduced the Albany Charter School Network as a dba that would work in a more hands on manner to provide supports in the schools.  As we close in on 20 years of operation and look toward the future we have decided to pull those efforts back into the suite of services that the Foundation provides and have expanded our mission to include those academic supports so we can help schools not only grow and improve, but also develop the talent within their walls.
It has been 21 years since the passing of the New York Charter Legislation and we now have seven active charter schools in the City of Albany, utilizing nine campuses that educate just over 3,100 students. We are very proud to have been a part of the creation of these schools. With an eye to the future, we can't wait to see what we can help with next.
BEST Program
The Brighter Choice Foundation believes that supporting teachers is at the core of their success. Because of this we have developed our BEST Program, which is aimed at teachers as they enter the teaching field. Teachers will receive real skills that they can implement for an effective classroom environment. 
Learn More…
Curriculum
The Brighter Choice Foundation believes that there are unique curriculum needs that a teacher faces in an urban classroom.
Learn More…
Professional Development
The Brighter Choice Foundation believes that continuous professional development is a cornerstone of great teaching.
Learn More…
Address
19 Dove Street, Suite 104
Albany, New York 12210